5 Things Every Mobile-Friendly Website Must Have
With the arrival of Mobilegeddon (Google's latest and biggest update hitting websites that aren't mobile friendly) many business owners and big brands are scrambling to get a mobile responsive or m. website created for their domain. If you are unsure as to whether or not your website is mobile friendly you can receive a fast and FREE mobile website analysis here.
This is fantastic and is going to incredibly improve the user experience for 50% of the search traffic using mobile devices for their web browsing.
But…
in all the rush and panic, some businesses are merely focusing on ticking certain boxes for Google but aren't approaching their mobile design with true usability in mind.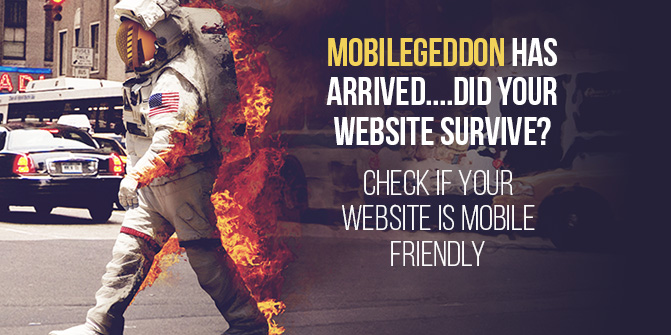 In the wake of this, we wanted to share the 5 big dealbreakers for a mobile website that actually converts visitors in to enquiries, fans and customers. Simple to do but SO often forgotten…
1. Click to Call
In almost every business situation, your contact number should be located above the fold on a mobile screen AND have "click-to-call" functionality. There's nothing worse than trying to copy and paste a non-responsive phone number or remember the phone number when trying to contact the business. If you're a service based business, this is ESSENTIAL.
Easy Clicks on Call to Actions
Other call to actions on your mobile website must be large enough to be read and clicked. Give a little allowance for those of us who are dexterously challenged (or just have fat fingers!)
Small-Screen-Friendly Font Size
Speaking of reading, let's look at font size for a moment. Stop and think for a moment about how frustrating it is when you visit a website on your mobile and have to zoom in and out, scrolling across the page to be able to read the text. Its nuts right? Don't make it any harder for your visitors to engage with your website. Google recommends a base font size of 16 CSS pixels for your mobile website.
Mobile-specific Menu
Typically, when users are on a mobile, they're going to want to act and engage with a website in a different way to if they were on a desktop. Consider the layout and order of your website main menu and always try to have a mobile-friendly version displayed on your mobile website. "Locate a Store", "Request a Quote" or "Shop Now" pages might be higher up on a mobile website and some pages may even been removed from the mobile menu altogether.
Mobile-Friendly Contact
Avoid any flash or heavy PNG-24 content on your website as many mobile devices aren't able to display such content. Stick to HTML5 and JPEGs for a mobile-friendly display. You're going to have a really tough time converting visitors to anything at all if they can't see half of your content in the first place.
To have your website analysed to ensure it is not a Mobilegeddon target, check out our mobile friendly website analysis NOW.